Your Local SEO Guide
Preparing For 2018 Local SEO
I am a local SEO fan and would like you to swing to the top in your business area. Hang on tight, here is your LOCAL SEO guide to help you soar in SERP.
This guide is for anyone looking to expand their business reach online. It is meant for especially those business owners who serve their customers locally and for marketers who want to offer local services/products to their clients.
Local SEO is all about serving your customers in their geographic area. What matters here is the combination of Distance, Relevance and Prominence.
Local SEO Dos'
Keep your brand name consistent
Get listed on Google My Business and Bing Places for business - Businesses reliant on Local SEO need to be careful while creating listings and should read the Google Local Business Listing Guidelines carefully to avoid any traps
Schema is important, and one should implement local business Schema
Keywords matter: select the right category, add labels, and attributes
Title and meta tags cannot be ignored: use them smartly for better SEO benefits
Correct contact information is essential so that you don't miss out on your potential customers
Optimise to rank for local pack maps search results
Competitors' backlinks overview and plan for citation
Local citation with URL tagging (URL builder, add UTM parameter) is the need of the hour. Participate in local web/ business directory
Business reviews and rating by your customers are important for branding
Local SEO Don't
Avoid adding prefix or postfix to your business name
No keyword stuffing
Missing NAP information on the website
Adding wrong region detail in the contact information will demote the presence locally
Website organic SEO, google Maps and local packs, and local citation form the foundation for your local SEO. Here is an image by Moz that shows local seo as an intersection of the related SEO products.
Local SEO Lesson to Learn
For one of our clients with 1000s of service area and storefront we have been doing SEO. We started doing local SEO in Quarter 2 of 2017 for its 20 locations to check if it works and its impact.
We targeted 20 top locations for our Local SEO project. As the listing already existed, we optimized all the 20 listings: Name (no keyword please) for business name consistency, Meta description, Updated Address, Fixed pins, added UTM parameters to URLs to tag the traffic from these listings, uploaded many images, added attributes, labels, additional categories. Then we also asked our customers to leave review for our business.
For the website to appear in Google local pack, we focused on opportunistic keywords.
Targeted keywords were used in title and meta description to describe content.
We added localbusiness schema on the targeted pages to see the result. Keyword ranks improved on Google maps.
We have a big list of local directories like Yell, Hotfrog, Foursquare and we participated in local business directories. Business mention on these local directories is called link citation. This is recognized by Google and this helps in local results improvements.
We maintained business name consistency and accuracy
Top Pick 20 locations worked wonders with our local SEO tactics along with Local Business listings and Links citation.
Here is a snapshot of local SEO impact on top 20 location pages performance: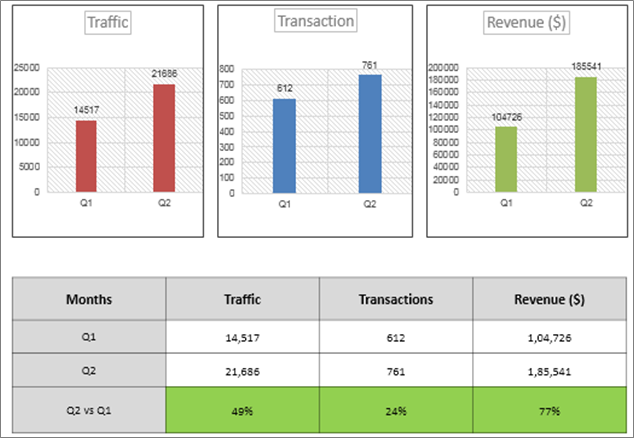 Traffic: up 49%, Transaction: up 24%, Revenue: 77% and overall keywords rank improved on Google maps by 15%. Also, the local business directories contributed 2% to the local seo traffic. We are working on the next set of 20 locations along with the first batch of 20 locations and we expect much higher return on investment.
Local SEO for Mobile is future of SEO. Get your Local presence accelerated with best local SEO practices for your businesses online presence in 2018. It is the time for planning for 2018, budgeting based on your plans, and strategizing for your SEO success in 2018.
To build your website credibility locally, get your website assessed and get your local SEO audit done today!